The Benefits of a Fold-Out Couch Bed | Furniture Now
The Benefits of a Fold-Out Couch Bed | Furniture Now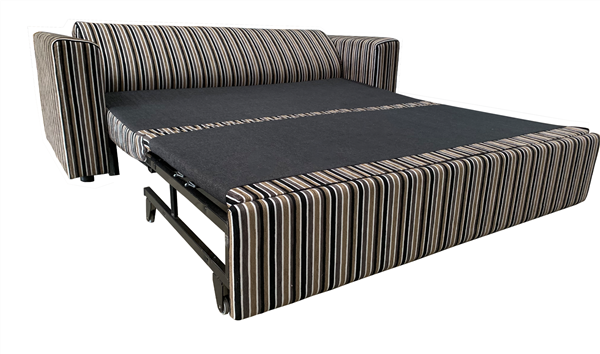 The Benefits of a Fold-Out Couch Bed
When furnishing a living room, there is one practical piece of furniture that many people overlook – the humble fold-out couch bed. Gone are the days of sofa beds being lumpy, creaky, and uncomfortable. Modern couch beds are a great option for any home. Read on to learn more about the benefits of having a fold-out couch bed.
Save space
The first and most obvious benefit of using a couch bed in your home is the amount of space you can save. A couch bed takes up the same amount of space as a regular couch and can easily be pulled out when guests come over. That leaves your guest room free to be transformed into the man cave or craft room you've always wanted! Sofa beds are especially useful if you are living in a studio apartment or tiny home, where every bit of space counts.
Lots of options for style
There are many different options for couch beds on the market. They come in various styles and fabrics that will fit perfectly in your living room. The sofa beds of today look exactly like regular sofas, only with extra functions. Even classics such as the mighty Chesterfield are now available as a sofa bed!
Comfortable
Most people have an unpleasant memory of sleeping on a couch bed and waking up with a sore back, feeling more tired than when they went to sleep. Luckily, couch beds have come a long way since then. Advancements in manufacturing and customer needs have seen couch beds become more and more comfortable when they're in both bed form and couch form. If you want people to visit and stay over at your house, you need to provide a comfortable sleeping option. The sofa bed is a far superior alternative to the inflatable mattress, a camp bed, or a regular sofa that wasn't designed for sleeping on.
Save money
Buying a sofa bed can save you money because you can use one piece of furniture for two purposes: seating and sleeping. Plus, you won't have to put money toward decorating and furnishing a guest room. Compare the cost of a sofa bed to the cost of buying a standalone sofa and a comfortable bed, and you'll see there's simply no comparison – a sofa bed represents far greater value for money.
Furniture Now has all your sofa bed needs covered!
Furniture Now is a New Zealand-based furniture store that values creativity, quality, and value. We are always looking for opportunities to bring you style and comfort. We have a huge range of beautiful pieces that seamlessly fit into your style and home, inspired by our relaxed way of life and love of open spaces, simplicity, and practicality. Browse a range of affordable furniture choices at Furniture Now, designed around the world and in New Zealand. We have sofa beds perfect for a teenager's room, a sleepover, beach house, or as a main seating piece in a small home. Get in touch with us with any questions today!